Gigs and Events From The Dusty Past ...
It just wouldn't be fair to only tell you about what is going to be on at the pub without giving you access to some of the great piccys and write-ups we have for previous gigs. So, have a trawl through our Archive and whet your appetite for what is one of the best menus of live music in Wales.
Browse the Archive  We are currently working on developing the Archive. This will give everyone a good idea as to what has happened in the Queens in the past
Sunday 23/04 EARL
Sunday 16/04 JOHN PAUL GARD TRIO
AN EASTER SPECIAL!!!!! John Paul Gard; Alex Hutchins and Toby Perrett usually only play once a year at the Xmas gig as Alex is always abroad. However he is in the country and they coming to play Easter Sunday. If you have heard them I dont have to say anything else. If not get here early for an amazing gig. Hammond Organ,guitar and drums and the JP left leg bass. It does'nt get much better!!!!!
Wednesday 08/03 SILLY BILLY
******** Cancelled *********
Sunday 12/03 RAGTIME JUG BAND
Sunday 19/03 RED RIVER BLUES
Wednesday 22/3/17 Coltrane Dedication
***** Jazz Special *****
South Wales' stalwarts of Ashley John Long (bass), Dave Jones (piano), Ian Poole (drums), Caractacus Downes and Lyndon Owen (Saxophones) are set to give another evening of barnstorming improvisation using some of the great later tunes of Mr John Coltrane as their spring board.
Their appearance last year at the Queens during the Monmouth Festival week went down as one of the great live experiences of the year.
Sponsored by Music in Monmouth and SFM
Sunday 09/04 Skylark
Sunday 02/04 MAYFIELD and the Rhythm Rats
This is becoming an annual jamboree! Chris Mayfield celebrates his birthday again with another evening of down to earth blues, rolling and strolling along with the superb Rhythm Rats.
Come on down for a night of the sublime steady groove that flows from this band like a racoon in a squirrel cage. Oh, and cake!!!
Sunday 26/03 THE FORFEITS
Sunday 05/03 CAPA MANA - BALKAN BAND.
A recently formed Balkan Band from S.Wales. With members of the Heavy Quartet we can expect something special!
Wednesday 1/3/17 Sirene 1009:
***** Jazz Special *****
Improviser, guitarist and constructor Han-earl Park (박한얼) has been crossing borders and performing fuzzily idiomatic, on occasion experimental, always traditional, open improvised musics for twenty years presents 'Sirene 1009', the stupendous ensemble featuring the indomitable low-end growl of Dominic Lash, the unstoppable hits and clangs of Mark Sanders, and the controlled vocal mayhem of Caroline Pugh.
Somewhere out there, there's an SUV-sized violin tailgating, a No Wave guitarist desperately trying to survive in the Appalachian Mountains, someone dropping sheets of metal during a Jazz Session, an evolutionary biologist finding themselves speaking in tongues (Awash in Blue).

Hear guitarist Han-earl Park push and pull on the guitar-amplifier dancing partners, Dominic Lash and his double bass damage hanging artwork, Mark Sanders excavate caverns in the smallest spaces for his percussion, and Caroline Pugh sing the lines that border the intelligible and the cryptic. Sirene 1009 features guitarist Han-earl Park who has performed with some of the best improvisers from the Americas, Asia and Europe. He is part of ensembles including the London-based Mathilde 253 with Charles Hayward and Ian Smith, the New York-based Eris 136199 with Nick Didkovsky and Catherine Sikora, and the Berlin-based Numbers with Richard Barrett. The molten, musical core of the ensemble comprises the virtuosic bassist, composer and sound artist Dominic Lash, and Mark Sanders, arguably the most sought-after avant-jazz and free improvisation drummer of his generation. During the Culture Ireland funded tour of England in 2015, Belfast-based experimental folk singer and electronics performer Caroline Pugh joined Sirene 1009, bringing an additional layer of levity and exuberance to the already playful interactions of the trio. With musicians representing diverse strands of present-day improvised musics, prepare for a performance that fragments and recombines musical histories, a performance that leaps unexpectedly between noise, melody, dissonance, harmony and rhythm. Sponsored by Music In Monmouth and the Plancktone Club
Sunday 26/02 BELLEVILLE SWING
A foot tapping special engendered by Django and the rest of the Hot club de Paris. Belville Swing always project that atmosphere normally developed by mixing coffee, absinthe and Gitanes.
Sunday 19/02 LEE Mc CRORY
Wednesday 15/2/17 Sirkis/Bialas IQ
A welcome return to the Queen's Head, the Sirkis​/​Bialas International Quartet is a collaboration between Israeli UK resident drummer/composer Asaf Sirkis, known for his work with the Lighthouse trio (ACT), Gilad Atzmon, Tim Garland, Larry Corryel, John Abercrombie & the Asaf Sirkis Trio, and Polish vocalist/composer extraordinaire Sylwia Bialas. The quartet features London based, Scottish bassist Kevin Glasgow, and the acclaimed Frank Harrison on piano and keyboards (UK).
With an emphasis on band interaction and sheer joy of playing, this band celebrates new music from both collaborators, covering a wide range of influences such as contemporary classical music, Polish folk, South Indian & Middle Eastern musics as well as a wide range of dynamics – from the most delicate ballad all the way to high-energy electric virtuoso lines and everything in between.
Expect soulful melodies, aerospheric sounds with strong grooves, a full colour electroacoustic jazz with an ethnic touch and some uncommonly used instruments and sound effects.
Asaf Sirkis - drums / compositions / percussion, Sylwia Bialas - vocals / compositions, Frank Harrison - piano, keyboards, Kevin Glasgow - electric bass
Sunday 12/02 FLEETWOOD CAVE (MARION FLEETWOOD, JIGANTICS FIDDLE PLAYER)
Two of British folk's most exciting musicians, sharing a love of performing live and for original and traditional music. Marion Fleetwood is no stranger having played the Fiddle with the Jigantics where we also headr her astonishing vocal repertoire. Gregg Cave who founded the Rock/Folk group Cave and also TRADarrr has been touring the UK and Europe performing at Concerts and Festivals. Two superb musicians!!!
www.fleetwoodcave.com
Sunday 05/02 STEVE PAYNE/BILLY BOY MISKIMMEN (WONDERFUL BLUES, GUITAR & YARDBIRDS HARMONICA PLAYER)
Wednesday 1/2/17 A Big Hand
CANCELLED DUE TO ILLNESS - APOLOGIES
"A Big Hand" is a meeting of the ecstatic jazz of Sunny Murray saxophonist Tony Bevan and the industrial rumble of Furt/Barks Phillip Marks and Paul Obermayer, with bassist Dominic Lash holding the groove in the middle. Like a Sonny Rollins Trio in a tumble-dryer,
Tony bevan (saxophones) - In the early 1970s Bevan started playing soprano saxophone, inspired by Captain Beefheart and Terry Riley. Lol Coxhill gave him his first lesson and a sense of the instrument's potential. Subsequently Bevan has also taken up tenor and bass saxophones.
Paul Obermayer (electronics) - Obermayer is a member of the Evan Parker Electro-Acoustic Ensemble, and has worked with composer/performer Richard Barrett in the electronics duo FURT for nearly 30 years. He has been a member of the trio Bark! with Phillip Marks and Rex Casswell since 1998.
Dominic Lash (bass) - Based in Bristol, Lash has performed with musicians such as Tony Conrad, Joe Morris, Evan Parker and Steve Reid. His main projects include The Dominic Lash Quartet, The Set Ensemble (an experimental music group focused on the work of the Wandelweiser collective) and The Convergence Quartet.
Phillip Marks (percussion) - Is a member of Bark!, founded in Manchester in 1991 and also plays in the Alan Tomlinson Trio, and Richard Scott as part of his Lightning Ensemble. He has played with Derek Bailey, Evan Parker, Stephen Grew and John Butcher among many others. Supported by Music in Monmouth and The Plancktone Club
Sunday 29/01 THE DRIFTS(CLYDE,RED RIVER BLUES OTHER BAND)
Sunday 22/01 JAMES HOLLINSWORTH
Sunday 15/01 TERRI BRAMAH
Sunday 08/01 EARL
Sunday 31/12 ALBINO FROGS
AND THEN...........NEW YEARS EVE.
Sunday 18/12 LITTLE RUMBA
To make it a weekend to remember we follow the wonderful Saturday gig with probably the most popular band that play at The Queens Head.
If you can you imagine songs from an island populated by Jewish Argentinean Celts, stuck in the middle of the Gulf of Mexico, reached only by radio stations from New Orleans, Cuba and Jamaica - then you're ready for Little Rumba - a great world music trio.
www.littlerumba.com
Saturday 17/12 XMAS SPECIAL !!! JOHN PAUL GARD/ALEX HUTCHINS
For the fourth year in a row John and Alex put aside all bookings and return to the Queens Head for their Saturday before Xmas gig. This has become a special event and there are not enough superlatives to describe this amazing trio. Anyone who has heard them will know what I mean and if you hav'nt just google Alex and be blown away. As always its free admission but do get here earl. 8.30pm start.
Sunday 11/12 HEAVY QUARTET
The amazing red hot band are back for their annual pre-Xmas show.Constantly evolving, the Heavy Quartet continue to blow your socks off! All their output is a funky collection of grooves, mixing a big brass sound with intricate improvisation. A group that shuns the common labels, the Heavy Quartet represent vibrant musical irreverence and unpredictable eclecticism. This nine piece….yes they are not a quartet…always have the Pub jumping. Thwey have a new album out and are offering free dowmloads to everyone at the Gig. YOU DONT WANT TO MISS THIS OPPORTUNITY!!! Check out the website
www.reverbnation.com/heavyquartet
Sunday 04/12 GRUIG – IRISH BAND
Sunday 09/10 BRIDGET AND THE BIG GIRL BLUES
Sunday 02/10 JELLY ROLL JONES
Wednesday 28/09/16 Tassos Spiliotopoulos' Swedish Band
***** Jazz Special *****
Pleased to welcome back Tassos in full flight of a UK tour with his new Swedish band where he is now resident. The musicians are Örjan Hultén ( Saxophone), Fredrik Rundqvist (Drums) and Palle Sollinger (Bass) are all established musicians in Stockholm and the new album is sounding great! Supported by Music in Monmouth
Sunday 25/09/16 TERRI BRAMAH
Sunday18/09/16 JOHN PAUL GARD/JON DALTON
Wednesday 14/09/16 BIG SKY – COLIN TULLY
***** Jazz Special *****
Sunday 11/09/16 RAGTIME JUG ORCHESTRA
Sunday 04/09/16 LEE MC CRORY
Sunday 28/08/16 BIG NANNA
–JANE PEARL/LYNDON WEBB/THAD KELLY
Sunday 21/08/16 JAMES HOLLINGSWORTH
Sunday 14/08/16 SOUTHERN CROSS
– ROB MORRIS/ROGER GREY et al
Sunday 31/07/16 EARL
Wednesday 27/07/16 Coltrane Dedication
***** Jazz Special *****
Up for another evening of extempory, full-on improvisation from the power quintet that takes the later tunes of Mr John Coltrane and continues on the journey that starts in many places and never finishes; meeting the intricacies of life on the way! A band that sits on the shoulders of one of THE great musicians of the 20th century, a composer of outstanding strength in his simplicity, and a true master of his instrument - always searching, never content, and a man on a mission to make the world a better place.
Coltrane Dedication has followed the mission with an impressive collective of like minded players - on this occasion we have Caractacus Downes and Lyndon Owen (Saxes), Ashley John Long (Bass), Ian Poole (Drums), Dave Jones (Piano). Supported by Music in Monmouth Deicated to SFM
Sunday 24/07/16 Mayfield
Mr Chris Mayfield, the 'strong deliverer' of gritty country and urban blues. Superb guitar playing from the killing floors of Lydney meatpackers to the cotton fields of Newnham.
Wednesday 20/07/16 Philip Clouts' Anglo-Welsh Ensemble
***** Jazz Special *****
A new venture for Philip Clouts as he combines his accomplished compositional style, steeped both in the music of his native South Africa and in a diverse range of world musics which he has explored to critical acclaim, with a group of Wales finest players.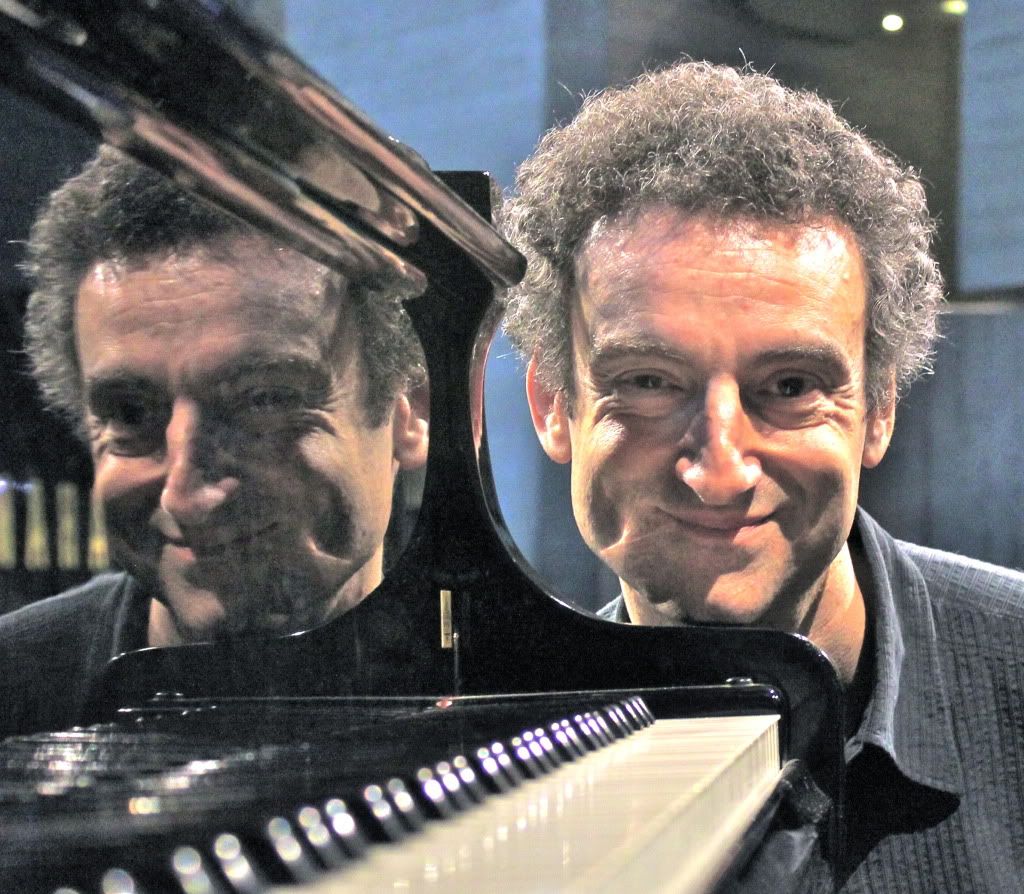 "Luxurious melodies, woven with subtle influences from Clouts' forays into world music ... a joy throughout, uplifting and contemplative by turns"
Jazz UK
Supported by Music in Monmouth
Sunday 17/07/16 The Forfeits
'On the button' four piece with contemporary upbeat party tunes. Always gets the audience up and dancing, so make it an energetic summer's evening!
Sunday 10/07/16 Little Rumba
Without doubt one of the most popular bands to play at the Queens. You may have heard them before but they never cease to amaze!!!
If you can you imagine songs from an island populated by Jewish Argentinean Celts, stuck in the middle of the Gulf of Mexico, reached only by radio stations from New Orleans, Cuba and Jamaica - then you're ready for Little Rumba - a great world music band
www.littlerumba.com
Wednesday 22/06/16 Kevin Figes Quartet
***** Jazz Special *****
Figes' Quartet play his own distinctive compositions and have performed all over the UK for many years with widespread critical acclaim and airplay.
There is a striking level of empathy and interplay within the Quartet that comes from a combination of highly accomplished players, all great improvisors in their own right, who have worked closely together for some time. The compositions are constantly developing to produce work which is challenging and contemporary . Influences include David Binney, Dave Holland, Chris Potter, John Escreet, Hermeto Pascoal, Soft Machine and much '70s prog rock. The aim is to produce personal music in a fearless and evolving way.
Figes is the real deal
Jazzwise
This is poised, distinctive music
Jazz UK
First class British contemporary jazz
Jazz Views
Its this combination of rich writing with an outstanding band that gives Figes's solo LP such distinction
Independent on Sunday
Wednesday 08/06/16 Duski
***** Jazz Special *****
Aidan Thorne's Duski project has grown over the years both in compositional strength and unity as a coherent playing outfit. Thorne's writing certainly does provide a refreshing repertoire which echoes broad and diverse sources.
(Checkout the JazzMann's review)
.
Duski is a young contemporary band, with plenty to say. Well worth listening to, bringing whatever 'jazz music' is, bang up to date!
Supported by Music in Monmouth
29/05/16 Red River Blues
Blues from Ross - straight down the line with a mixture of cigar box guitar, harmonica and sax expanding the unit to give that big six piece sound. A great night is assured
www.redriverblues.com
22/05/16 Belleville Swing
A foot tapping special engendered by Django and the rest of the Hot club de Paris. Belville Swing always project that atmosphere normally developed by mixing coffee, absinthe and Gitanes.
Thursday 19/05/16 BLUES SPECIAL : The Aguilar Blumenfeld Project (USA)
***** BLUES IN PARADISE UK TOUR 2016 *****
Californian musicians Roy Blumenfeld & David Aguilar will be bringing their unique blend of swamp, blues and funk music to the Queens Head.
The partnership of these two seasoned and masterly musicians draws on their extensive combined repertoire, honed over many years performing and collaborating with countless icons of the Americana music scene. The Trio is completed by respected bassist Steve Browning of Pretty Things / It's a Beautiful Day fame.
The Aguilar Blumenfeld Project creates a fascinating mix of interpretative musical statements expressed through both traditional and unconventionally innovative instrumentation that melds together the steamy swamp-music roots of the blues with elements of the jazz, rock and soul that has developed up to the present day. Their eclectic and fascinating mix of funky rhythms and inspirational musicianship are sure to get audiences dusting off their dancing shoes! Checkout
www.theaguilarblumenfeldproject.com
Sunday 15/05/16 Dan James
A true Troubador. A great driving mando-cello player with a mixture of favourites and own penned numbers. Ranging across a wide spectrum of musical tastes. A great gig!!
Wednesday 11/05/16 Burum
***** Jazz Special *****
This sensitive fusion of Welsh folk music with jazz never fails to reach the heart.
Burum
have grown together, very much akin to the 'yeast' of their naming, to provide a close respect of their cultural roots combined with the extemporary explorations that improvisng provides. Little wonder they have represented 'Welsh jazz' in the USA, Brittany and India.
The strength of celtic melodies such as 'Pontypridd' and 'Lloer Dirion' provide a very unique platform for the empathetic improvising these guys always deliver.
Supported by Music in Monmouth
Sunday 08/05/16 The Heavy Quartet
The Heavy Quartet are one of the truly great bands to play at the Queens and also one of the most popular. All their output is a funky collection of grooves, mixing a big brass sound with intricate improvisation. A group that shuns the common labels, the Heavy Quartet represent vibrant musical irreverence and unpredictable eclecticism. This nine piece….yes they are not a quartet…had the Pub jumping when they last played and this gig will be no exception. http://www.heavyquartet.com/"
Sunday 01/05/16 Terri Bramah and Steve Payne
What a pleasure to once again have the wonderful Terri Bramah performing at the Queens Head. This lady has got a superb voice and it was a joy to hear her performing with the Rhythm Rats at of their gigs Terri was always a favourite at the Queens and backed this time by the superb Steve Payne on guitar, this promises to be a special evening.
Wednesday 27/04/16 Coltrane Dedication
***** Jazz Special *****
By special request following a magical and intense performance at Cafe Jazz in Cardiff, we have another night of new ground to be broken by the 'go anywhere' quintet. Picking up the later tunes of Mr John Coltrane and letting the powerful simplicity of them take us wherever we collectively go. Lyndon Owen & Caractacus Downes on Saxophones, Dave Jones; piano, Ian Poole, Drums.
Supported by Music in Monmouth and SFM
Sunday 24/04/16 Earl
Get your dancing shoes on and be ready to boogie. A mixture of original songs and interesting covers. Songs of love, protest and stupidity
Sunday 17/04/16 The Alco Acoustics
A debut gig from a new band. Ali Park has often done a turn with Dan James at the Queens and we look forward to her gig with her own band. More info to follow
Wednesday 13/04/16 Partikel's String Theory
***** Jazz Special *****
Partikel
are seriously 'hot news' in the contemporary jazz world. 2015 has been a huge year for them: the release of their third album "String Theory" took the British Press by storm receiving multiple four and five star reviews and making onto a number of "best jazz albums of 2015" lists already. Combine this with a tour of China, a series of major festivals, and a hefty work schedule to 2016, this is really a band not to miss.
"String Theory is one of the most successful jazz / classical collaborations I've heard, a genuinely convincing hybrid... the album is a brilliant realisation of all the ambitions and objectives Eagles had for the project.... an astonishing performance."
Ian Mann
"Inventive contrapuntally - rich arrangements, this excellent experiment represents a perfect marriage of two seemingly disparate entities, resulting in an album of richly mellifluous sonority"
All About Jazz
"Turbulent avant-riffage, lush, cinematic sophistication... an ambitious project, convincingly realised"
JazzWise
"A triumphant third album"
MOJO
"The always stimulating Partikel meets this string section on equal terms. Eagles's tone on his various horns achieves an impressive blend of colours and dynamics. His compositions and arrangements, embracing sinuous, sinewy elegance, spiky funk and languid ballads, repay close attention. It's another intriguing step in the evolution of this talented outfit."
BBC Music Magazine
Supported by Music in Monmouth
Sunday 10/04/16 Jigantics
One of the most popular bands to play at the Queens. The Jigantics are making a name for themselves all over the Country. With a line-up of the best of monmouths musicians and featuring the guitar meister Lyndon Webb this will be an awesome night. Get here Early!!!!
Sunday 03/04/16 The Rhythm Rats
The full on quintet for a night of earthy blues. Great original blues guitar from Chris Mayfield with one of THE sublime rhythm sections of Thad Kelly and Les Morgan. Plus Mick Paice and the superb Sax of Ben Waghorn. Add to this the incomparable Jane Pearl and you have one of the best bands around. Big urban blues influences executed with that easy, smooth rolling motion - like listening to good cigars and whisky. It's the "ole boys" birthday and promises to be a wonderful evening!!!!!!!
Wednesday 30/03/16 Ant Law
***** Jazz Special *****
A gig for the axemen! Described as "An Innovator" by The Guardian, Guitarist Ant Law was a scholar at Edinburgh University and Berklee College of Music. He now lives in London and works extensively with his own quintet, as well as (Grammy-winner and Chick Corea sideman) Tim Garland's "Lighthouse" (along with Jason Rebello and Asaf Sirkis), and with saxophonist/composer Paul Riley and Trio HSK.
"Scarily proficient. A voice to heed"
Jazzwise
"Lean, purposeful" Ambitious, engrossing guitar jazz."
Guitarist Magazine
Supported by Music in Monmouth
Sunday 27/03/16 Bridget and The Big Girls Blues
Great performances of the great women of jazz and Blues. "Keeps on Churnin'" and hollers like a "Big Ten Inch Record", Bridget's the real deal - "She's Got Good Dry Goods" http://www.myspace.com/bridgetthebiggirlsblues
Drop Us A Line or Pick Up the Phone
You can contact us by email. Or, alternatively, pick up the phone and give us a call on 01600 712767. Thanks.