SUNDAY 18/01/15 RICH O'BRIEN
SUNDAY 24/01/15 ALBINO FROGS
Few people realise that Robert Burns was once the Albino Frogs greatest fan. To quote the baird himself:
"Conscious the bounteous meed they well deserve,
They only wonder some folks do not starve!
The grave, sage hern thus easy picks his frog"
The amazing Frogs return to the Queens Head with their fun irreverant music for another great party night!! Its also "Burns Night" so come and join us for some Haggis,neeps,tatties and maybe even a wee dram. Dont miss the party!!!
29/01/15 ROD KELLY TRIO
***** Thursday Jazz Special *****
"Our mid 20thCentury jazz heritage from Duke Ellington and Thelonious Monk to Bill Evans and Keith Jarrett - re-interpreted in a classic piano trio line up (with a nod to popularisers from Dave Brubeck to Ramsey Lewis)." Featuring Rod Kelly (Piano & Vocals), Wayne Elliot (Bass) and Roger Powell (Drums)
SUNDAY 01/02/15 JAMES HOLLINGSWORTH
SUNDAY 08/02/15 JELLY ROLL JONES
SUNDAY 15/02/15 IAN LUTHER
SUNDAY 22/02/15 GHOST OF A DOG
SUNDAY 01/03/15 MAYFIELD
SUNDAY 08/03/15 LITTLE RUMBA
11/03/15 Nat Birchall Sextet
***** Wednesday Jazz Special *****
Hailed by Gilles Peterson as "one of the best musicians in the UK", saxophonist Nat Birchall remains one of the UK's hidden jazz treasures. Their latest album "Live In Larissa" was made the number 1 Jazz album of 2014 by Wire Magazine. A band with enormous empathy for truly spiritually contemplative and uplifting music. Obvious late Coltrane influences but a voice all of their own - a delight for the senses.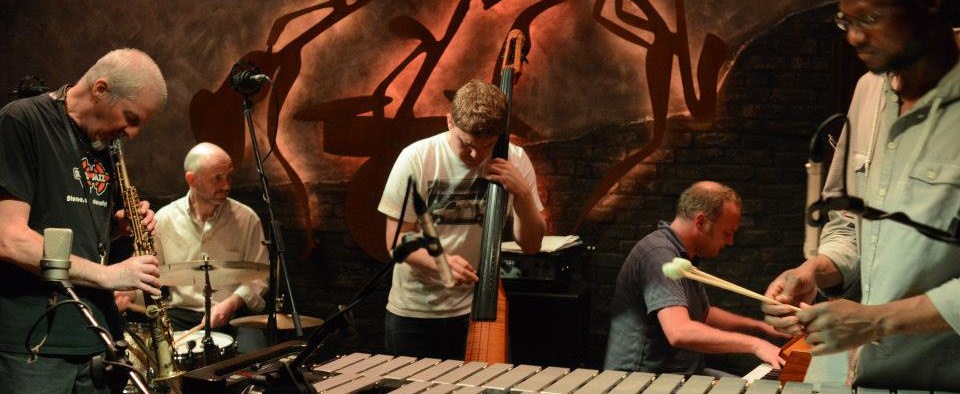 Nat Birchall – Tenor/soprano saxophones, percussion, Adam Fairhall – Piano Corey Mwamba – Vibraphone, percussion, Michael Bardon – Bass, Johnny Hunter – Drums, Christian Weaver – Congas, Bata drum, bells, percussion
Supported by Music in Monmouth
.
SUNDAY 15/03/15 TERRI BRAMAH
18/03/15 Burum
SUNDAY 22/03/15 JIGANTICS
SUNDAY 29/03/15 LEE MC CRORY
SUNDAY 05/04/15 TBA
SUNDAY 12/04/15 TBA
SUNDAY 19/04/15 TBA
22/04/15 Dörner/Lash/Turner
***** The Plancktone club presents ... Wednesday Jazz Special *****
Major European improvisors descend again on the Queens for a night of extreme abstraction.
#BLOW# German Trumpetmeister,
Axel Dörner
, born in Köln studied at the conservatory in Arnhem, the Netherlands, #HIT# bouncing off the near improvising royalty of drumset and purrrrrcussion,
Roger Turner
,
"can begin a roll on the toms and end it on your Ming- dynasty vase…a drummer who defies any categorisation; his complex artistry could easily rack the brains of the unprepared…" Touching extremes 2006
, and then some #PLUCK# with
Dominic Lash
on Bass
"following in an illustrious lineage from Barry Guy through Simon Fell ... breathtaking" John Sharpe, All About Jazz
Supported by Music in Monmouth/Plancktone Club
SUNDAY 26/04/15 BELLVILLE SWING
SUNDAY 05/05/15 MAYFIELD
SUNDAY 10/05/15 TBA
SUNDAY 17/05/15 TBA
SUNDAY 24/05/15 JANE PEARL/THAD KELLY/LYNDON WEBB
Drop Us A Line or Pick Up the Phone
You can contact us by email. Or, alternatively, pick up the phone and give us a call on 01600 712767. Thanks.