20/04/14 Rich O'Brien Project
A truly funky band!Merging grooves reminiscent of a Marcus Miller or Soulive record with ambient melodies that explore a range of musical styles, The Rich O'Brien Project's modern blend of jazz, funk, soul and r'n'b appeals to astute listeners and dance floor goers alike. With the rich 'grooves for moves' and soulful melodies characteristic of smoke-filled jazz clubs seen in their acclaimed debut EP, Frisky, their debut album Hot Potato - released 15th July 2012 and winner of the Robert Blackwell Composition Prize - is one not to be missed.
23/04/14 'Predicate'
***** The Plancktone club presents ... Wednesday Jazz Special *****
Hearalding the release of their second album on Gaffer Records,
'Nails'
, Predicate return to the Queens to invent another night of soundsculpting life experience. Led by Alex Ward, described as "a compulsively creative polymath" by Stewart Lee and "one of those musicians who seems to get interesting music out of anything he touches", by Nate Dorward. Ward has excelled by writing the compositions specifically for an improvising group to take and springboard from in any direction they choose.
The music, while often taking a high-energy free-jazz approach as its starting point, also incorporates the electric aggression of rock, the abstract interplay of non-idiomatic improvisation and a diverse range of compositional tactics into an intense and unclassifiable whole.
"...sharp, tightly written melodies with a deliberate [nod] towards the likes of Zappa and Beefheart."
- Paul Medley, The Oxford Times
Alex Ward - (guitar), Dominic Lash - (double bass), Mark Sanders - (drums), Tim Hill - (alto & baritone saxophone)
Supported by Music in Monmouth/Plancktone Club
27/04/14 Red River Blues
Blues from Ross - straight down the line with a mixture of cigar box guitar, harmonica and sax expanding the unit to give that big six piece sound. A great night is assured http://www.redriverblues.com
30/04/14 Bonefish
Yes….the Swedes are back….they just cant stay away. Anyone who was at the gigs last year will recall what a wonderful atmosphere there was and how much fun we all had. We even had two gigs they loved it so much!! Who knows it might even happen again this year.
04/05/14 Wild Bird Seed
A debut gig for a big local band. More info to follow.
11/05/14 Dan James
Great performances of the great women of jazz and Blues. "Keeps on Churnin'" and hollers like a "Big Ten Inch Record", Bridget's the real deal - "She's Got Good Dry Goods" http://www.myspace.com/bridgetthebiggirlsblues
18/05/14 Bridget and the Big Girls Blues
Great performances of the great women of jazz and Blues. "Keeps on Churnin'" and hollers like a "Big Ten Inch Record", Bridget's the real deal - "She's Got Good Dry Goods" http://www.myspace.com/bridgetthebiggirlsblues
22/05/14 NMQ - Nick Malcolm Quintet
***** Wednesday Jazz Special *****
Time to hear tunes from Nick's latest CD, "Beyond These Voices", live at the Queens (as opposed to
BBC Radio 3
). Inventive and melifluous trumpet playing, strong compositions and arrangement and a band that all rise to the challenge of a very high bar -
Checkout the NMQ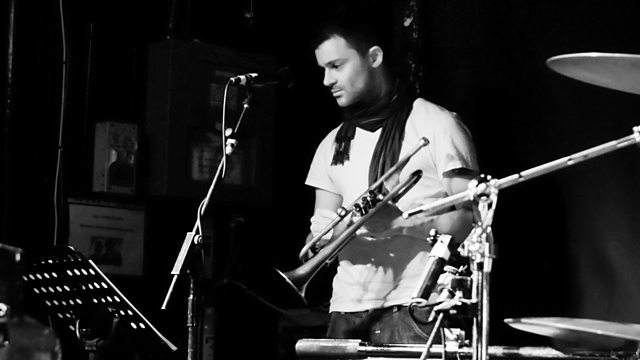 No stranger to the Queens we've been priveledged to see this band's develop over their lifetime in our frontroom - Given their punishing workrate and touring schedule its hard to believe its almost 2 years to the day since we last heard them!
Supported by Music in Monmouth
25/05/14 The Heavy Quartet
Constantly evolving, the Heavy Quartet have released a number of critically acclaimed albums. All their output is a funky collection of grooves, mixing a big brass sound with intricate improvisation. A group that shuns the common labels, the Heavy Quartet represent vibrant musical irreverence and unpredictable eclecticism. This nine piece….yes they are not a quartet…had the Pub jumping when they last played and as this is an anniversary gig expect fireworks. http://www.heavyquartet.com/"
1/06/14 Rhythm Rats
The full on quintet for a night of earthy blues. Great original blues guitar from Chris Mayfield with one of THE sublime rhythm sections of Thad Kelly and Les Morgan. Add to this the incomparable Jane Pearl and you have one of the best bands around. Big urban blues influences executed with that easy, smooth rolling motion - like listening to good cigars and whisky
04/06/14 The Partisans
***** Wednesday Jazz Special *****
Are we kidding? NO - its the Partisans!!!
A warm up gig prior to their USA and Canadian tour its a case of 'tonight the Queens Head, Monmouth, next week the Lincoln Centre, New York'.
'This foursome are often cited as godfathers of the ferocious "post-jazz" UK groups. - Times
Its a great privilege to wlecome back Phil Robson - Guitar, Julian Siegel - saxophone, bass clarinet, Gene Calderazzo - Drums and Thaddeus Kelly - Bass
Checkout the Partisans website
Partisans present some of the most refreshing music I've heard in a long while, uncompromising, very well written and very well played. It demands serious attention. I hear in these players a sense of common purpose and resolve, and a strong command of a dialect uniquely suited to this music. It's heartening to hear music that looks to find its own particular place. - Steve Swallow
Supported by Music in Monmouth
08/06/14 Ian Luther
After his stunning performance at the New Years Eve Party it is great pleasure to have Ian back again. A fantastic mixture of his own compositions and covers done in his own inimitable fashion this is always a great night
11/06/14 John Dalton and John Paul Gard
John Dalton is based in the USA and it is not often that we get to hear this great Jazz musician. Playing with his friend John Paul Gard this trio will be awesome.
15/06/14 Kevin Figes
Better and better every time we hear this trio. Tremendous synergy and freedom of interpretation and a complete mastery of the instruments and form by all three players. Kevin's alto sax is always lyrical, inventive and accurate and the drum/bass interaction is positively telepathic. This band is the true face of modern jazz playing in the UK. "One of the most interesting emerging talents on the UK scene." Jazzwise Magazine
Some dates for your diary ...
25/06/14 Tom Hewson 5'tet
***** Wednesday Jazz Special *****
J Maddren, G Crowley, N Malcolm and F Ireland on tour - checkout
www.tomhewson.com
Supported by Music in Monmouth
8/10/14 Duski Tour
***** Wednesday Jazz Special *****
Composer and bassist, Aiden Thorne, brings his refreshing core trio of Greg Sterland (Tenor Sax) and Mark O'Connor (Drums) expanded with the guitar and keyboards of Tom Ollendorf and Paul Jones. As part of their Jazz Services National tour we can expect an evening of new, original jazz compositions, executed by highly accomplished and sensitive players.
Supported by Music in Monmouth
15/10/14 Dörner/Lash/Turner
***** The Plancktone club presents ... Wednesday Jazz Special *****
Major European improvisors descend again on the Queens for a night of extreme abstraction.
#BLOW# German Trumpetmeister,
Axel Dörner
, born in Köln studied at the conservatory in Arnhem, the Netherlands, #HIT# bouncing off the near improvising royalty of drumset and purrrrrcussion,
Roger Turner
,
"can begin a roll on the toms and end it on your Ming- dynasty vase…a drummer who defies any categorisation; his complex artistry could easily rack the brains of the unprepared…" Touching extremes 2006
, and then some #PLUCK# with
Dominic Lash
on Bass
"following in an illustrious lineage from Barry Guy through Simon Fell ... breathtaking" John Sharpe, All About Jazz
Supported by Music in Monmouth/Plancktone Club
12/11/14 Preston Glasgow Lowe UK Tour
***** Wednesday Jazz Special *****
A real treat in contemporary fusion from 3 of London's most creative instrumentalists. Travelling well beyond the format of the 'guitar led trio' the virtuosity of playing presents a level of energy and creativity it is little wonder they have shared stages with the likes of John Schofield, Tommy Smith, Robert Mitchell, Foreign Exchange, and so many more that you need to
checkout the biographies
.
David Preston - Guitar / Composition, Kevin Glasgow - Bass, Laurie Lowe - Drums
Supported by Music in Monmouth
26/11/14 Deep Whole Trio
***** The Plancktone club presents ... Wednesday Jazz Special *****
Brace yourselves for the alchemy that is Paul Rogers on bass, Paul Dunmall saxophones and bagpipes, and Mark Sanders on Drums.
Three stunning innovators whose reputations resonate worldwide.
Paul Dunmall
having played with luminaries such as Alice Coltrane, Danny Thompson, Keith Tippett, Elton Dean and worked in arguably the cream of the free improvising British bands such as Mujician and latterly the Paul Dunmall Octet;
Mark Sanders
(no stranger to the Queens) has similar pedigree having projected his percussive intensity and sensitivity with Peter Brotzman, Oren Marshall, John Edwards, Charles Gayle.
Paul Rogers
on Bass with a top-class collaborative catalogue with the likes of Sam Rivers, Stan Tracey, Trevor Watts, Paul Rutherford through to Evan Parker and anyone who's who in improvised music for the past 30 years and playing a variety of Basses up to 18 strings.
If this is not the CD of the year, the its pretty f***ing close! Five Stars! - BLG
Supported by Music in Monmouth/Plancktone Club
Drop Us A Line or Pick Up the Phone
You can contact us by email. Or, alternatively, pick up the phone and give us a call on 01600 712767. Thanks.