Sunday 08/05/16 The Heavy Quartet
The Heavy Quartet are one of the truly great bands to play at the Queens and also one of the most popular. All their output is a funky collection of grooves, mixing a big brass sound with intricate improvisation. A group that shuns the common labels, the Heavy Quartet represent vibrant musical irreverence and unpredictable eclecticism. This nine piece….yes they are not a quartet…had the Pub jumping when they last played and this gig will be no exception. http://www.heavyquartet.com/"
Wednesday 11/05/16 Burum
***** Jazz Special *****
This sensitive fusion of Welsh folk music with jazz never fails to reach the heart.
Burum
have grown together, very much akin to the 'yeast' of their naming, to provide a close respect of their cultural roots combined with the extemporary explorations that improvisng provides. Little wonder they have represented 'Welsh jazz' in the USA, Brittany and India.
The strength of celtic melodies such as 'Pontypridd' and 'Lloer Dirion' provide a very unique platform for the empathetic improvising these guys always deliver.
Supported by Music in Monmouth
Sunday 15/05/16 Dan James
A true Troubador. A great driving mando-cello player with a mixture of favourites and own penned numbers. Ranging across a wide spectrum of musical tastes. A great gig!!
Thursday 19/05/16 BLUES SPECIAL : The Aguilar Blumenfeld Project (USA)
***** BLUES IN PARADISE UK TOUR 2016 *****
Californian musicians Roy Blumenfeld & David Aguilar will be bringing their unique blend of swamp, blues and funk music to the Queens Head.
The partnership of these two seasoned and masterly musicians draws on their extensive combined repertoire, honed over many years performing and collaborating with countless icons of the Americana music scene. The Trio is completed by respected bassist Steve Browning of Pretty Things / It's a Beautiful Day fame.
The Aguilar Blumenfeld Project creates a fascinating mix of interpretative musical statements expressed through both traditional and unconventionally innovative instrumentation that melds together the steamy swamp-music roots of the blues with elements of the jazz, rock and soul that has developed up to the present day. Their eclectic and fascinating mix of funky rhythms and inspirational musicianship are sure to get audiences dusting off their dancing shoes! Checkout
www.theaguilarblumenfeldproject.com
22/05/16 Belleville Swing
A foot tapping special engendered by Django and the rest of the Hot club de Paris. Belville Swing always project that atmosphere normally developed by mixing coffee, absinthe and Gitanes.
29/05/16 Red River Blues
Blues from Ross - straight down the line with a mixture of cigar box guitar, harmonica and sax expanding the unit to give that big six piece sound. A great night is assured
www.redriverblues.com
Wednesday 08/06/16 Duski
***** Jazz Special *****
Aidan Thorne's Duski project has grown over the years both in compositional strength and unity as a coherent playing outfit. Thorne's writing certainly does provide a refreshing repertoire which echoes broad and diverse sources.
(Checkout the JazzMann's review)
.
Duski is a young contemporary band, with plenty to say. Well worth listening to, bringing whatever 'jazz music' is, bang up to date!
Supported by Music in Monmouth
Wednesday 22/06/16 Kevin Figes Quartet
***** Jazz Special *****
Figes' Quartet play his own distinctive compositions and have performed all over the UK for many years with widespread critical acclaim and airplay.
There is a striking level of empathy and interplay within the Quartet that comes from a combination of highly accomplished players, all great improvisors in their own right, who have worked closely together for some time. The compositions are constantly developing to produce work which is challenging and contemporary . Influences include David Binney, Dave Holland, Chris Potter, John Escreet, Hermeto Pascoal, Soft Machine and much '70s prog rock. The aim is to produce personal music in a fearless and evolving way.
Figes is the real deal
Jazzwise
This is poised, distinctive music
Jazz UK
First class British contemporary jazz
Jazz Views
Its this combination of rich writing with an outstanding band that gives Figes's solo LP such distinction
Independent on Sunday
Wednesday 20/07/16 Philip Clouts' Anglo-Welsh Ensemble
A new venture for Philip Clouts as he combines his accomplished compositional style, steeped both in the music of his native South Africa and in a diverse range of world musics which he has explored to critical acclaim, with a group of Wales finest players.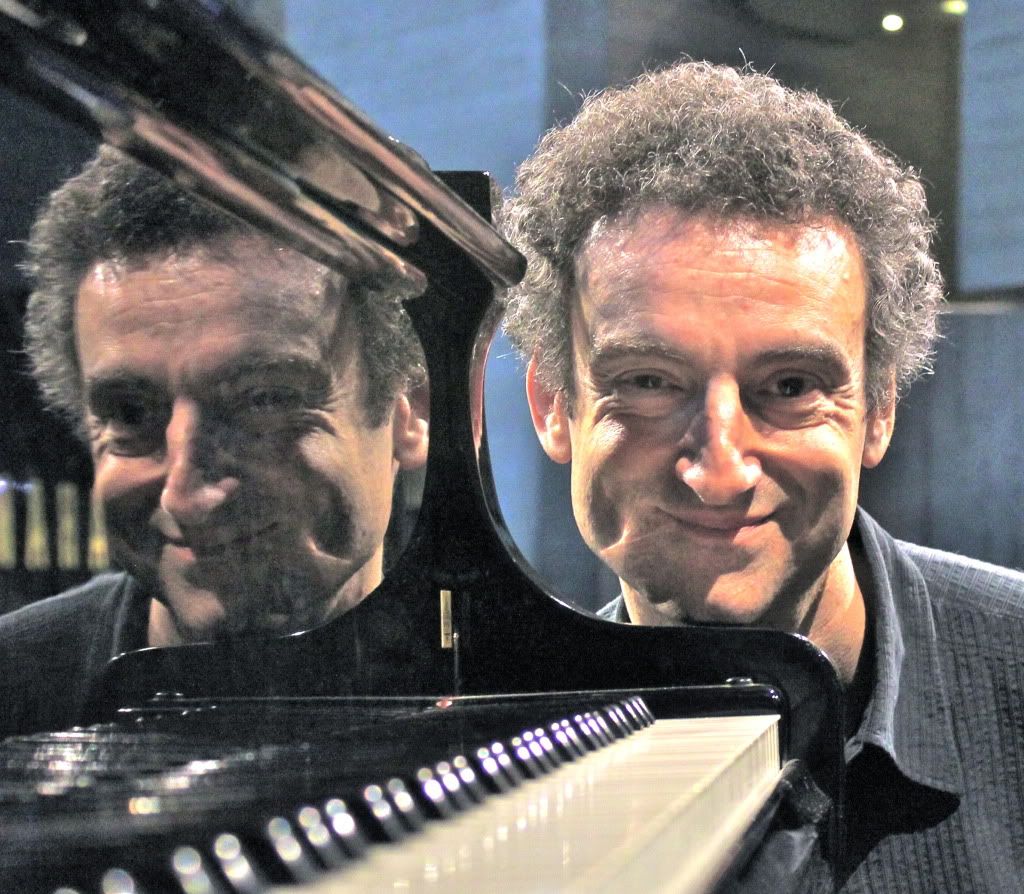 "Luxurious melodies, woven with subtle influences from Clouts' forays into world music ... a joy throughout, uplifting and contemplative by turns"
Jazz UK
Supported by Music in Monmouth
..... Some future teasers .....
Wednesday 28/09/16 Tassos Spiliotopoulos Swedish Band
Pleased to welcome back Tassos in full flight of a UK tour with his new Swedish band where he is now resident. The musicians are Örjan Hultén ( Saxophone), Fredrik Rundqvist (Drums) and Palle Sollinger (Bass) are all established musicians in Stockholm and the new album is sounding great!
Wednesday 2/11/16 Hans Peter Hiby Trio
Hans Peter Hiby first encountered British drummer Paul Hession in the Winter of 1986 when they started playing together as a duo in Hiby's home-town of Wuppertal. Having grown up and spending much of his childhood with Caspar Brötzmann, Hiby has deep roots within the Wuppertaler free jazz community. At which point we feel duty bound to declare:
!!!WARNING!!! this gig carriers a Placktone Club Health Warning
Performance liable to produce catharsis and other simliar challengesHiby/Hession has played throughout Germany as well as surrounding countries and on occasions augmented the duo with bass players Marcio Mattos, Roberto Bellatalla and Peter Kowald. The duo has now evolved into the new trio with double bass player Dieter Manderscheid, who is known for his work with Gerd Dudek, Frank Gratkowski and Gerry Hemingway.
Drop Us A Line or Pick Up the Phone
You can contact us by email. Or, alternatively, pick up the phone and give us a call on 01600 712767. Thanks.