Gigs at the Queens Head are every Sunday and occasional Wednesdays
All gigs are free admission and start at 8.30 pm. Programming consists of National and International touring artists as well as providing a platform for many of the high quality, creative players in the region.
Wednesday 24/10/18 Coltrane Dedication
***** Jazz Special *****
Up for another evening of extempory, full-on improvisation from the power quintet that takes the later tunes of Mr John Coltrane and continues on the journey that starts in many places and never finishes; meeting the intricacies of life on the way! A band that sits on the shoulders of one of THE great musicians of the 20th century, a composer of outstanding strength in his simplicity, and a true master of his instrument - always searching, never content, and a man on a mission to make the world a better place.
>
Coltrane Dedication has followed the mission with an impressive collective of like minded players - on this occasion we have Caractacus Downes and Lyndon Owen (Saxes), Ashley John Long (Bass), Ian Poole (Drums), Dave Jones (Piano).
Supported by Music in Monmouth and SFM
Wednesday 14/11/18 7Steps - Miles Davis contemporary interpretations
***** Jazz Special *****
Welsh trumpeter Tomos Williams joins forces with young tenor saxophonist Adam Nolan from Dublin in a Welsh/Irish Quintet to play the music of jazz legend Miles Davis. Miles was one of the towering figures of 20th Century music and '7Steps' will present his music with vigour and passion.The band will play some of the classics associated with the great trumpeter: Bye Bye Blackbird, Joshua, All Blues but also feature some of the less well known songs from Miles' vast catalogue such as Teo and Orbits. 7Steps have toured Ireland twice; in April 2013 and November 2016, and also featured at the Aberjazz Festival, in Fishguard in 2015.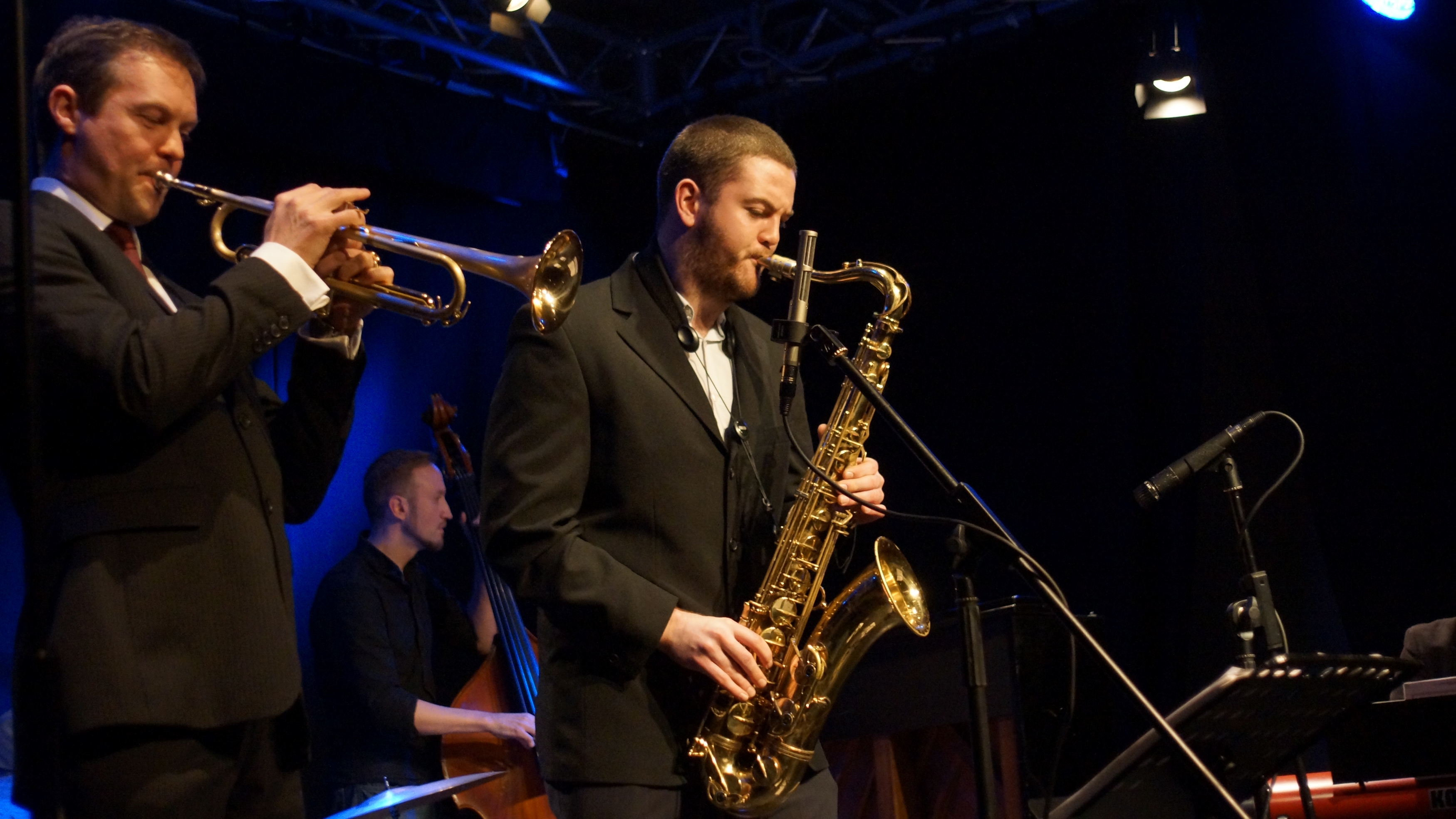 Tomos Williams is a leading and unique voice on the Welsh jazz scene. Heavily indebted and influenced by Miles' music ,7Steps is a natural project for Tomos to front. He also leads the jazz/folk sextet, Burum, (who have played in the US, France and India) as well as recently leading the groundbreaking Indo-Welsh fusion band 'Khamira', (who have played in South Korea, India and Wales).
Adam Nolan is a recent graduate of the renowned jazz course at Dublin City University and is rapidly establishing himself as one of the brightest lights on the Irish jazz scene, while the rhythm section of Dave Jones – piano, Aidan Thorne – bass and Mark O'Connor drums are well known faces on the Welsh jazz scene and are highly in-demand musicians. In Nolan, Williams has found an able sparring partner and they're playing often reached mesmerising heights, whether either was soloing or they were playing in unison or trading phrases....It was a hugely rewarding gig and one that left listeners with no option but to get home to dig out the originals." - Jackie Hayden,The Wexford Echo
Tomos Williams – trumpet, Adam Nolan – tenor sax, Dave Jones – piano, Aidan Thorne – bass, Mark O'Connor – drums
Supported by Music in Monmouth
Wednesday 12/12/18 Folio Trio
Trio Folio formed in 2018 setting out to combine a modern jazz instrumentation with a tactile and open approach to improvisation. Father and son rhythm section Paul and Saul Scott have nurtured a playing style that pays homage to the classic modern era from Coltrane and beyond, while bass clarinettist Chris Cundy explores self developed playing techniques at the margins of experimental and popular music. The trio is defined by a symbiotic nature, crossing lines between the lyrical and the spontaneous.
Between them they have collaborated and performed with artists as diverse as The Blind Boys of Alabama, Fatoumata Diawara, Moby, Denys Baptiste, and Robert Mitchell among many others. And individually have played to audiences across Europe and North America. Chris Cundy has made guest TV appearances on Later with Jools Holland and Top of the Pops and is regularly played on BBC 6 Music, Radio 3 and Radio 4. CHRIS CUNDY bass clarinet, PAUL K SCOTT double bass, SAUL SCOTT drums Music in Monmouth
Wednesday 16/01/19 DLQ
The ever creative Dominic Lash Quartet with Alex Ward on guitar, Javier Carmona on drums and Ricardo Tejero on alto sax
Drop Us A Line or Pick Up the Phone
You can contact us by email. Or, alternatively, pick up the phone and give us a call on 01600 712767. Thanks.